Staging and Structure
Corpralite audio Visual offer the most innovative and creative staging designs in Adelaide. Whether it be a large concert stage or small platform for a speaker our team will have a solution that fits your event.
Enquire now
Ready to hire?
Request a quote easily using our short online form.
Our light weight modular staging is the perfect platform for any event. Whether it be indoors or out the standard adjustable leg system allows us to build a stage on almost any surface. Our staging meets the highest global safety standards and with its patented hook on and locking mechanism it is able to support heavy loads.
For Custom designs and concepts our team is able to supply various fascia and surface options including carpet and acrylic.
We also provide rolling stage riser solutions in varying heights and access ramps. We will always ensure that our staging is delivered to the highest quality and meet all Australian standards.
Safety rails, stairs and Handrails are also supplied with every installation that require them.
For all Stage hire enquiries in Adelaide please call 08 8445 1997
Fashion Shows
Cat Walks
Runways
Tierd Seating
Marketing & Branding Activations
Vehicle Displays
Media Launches
Public Activations
Music Events
Live Music Stages
Drum Risers
DJ Stages
Podiums
Outdoor Concert Stages
Christmas Carols Stages
Wedding Stage Hire
Outdoor Services
Reception Band Staging
Raised wedding Party Seating
Corpralite Audio Visual have a range of custom designed Black Dome Roof Structures available for your next event in Adelaide. Our Structure's are built from the European designed Euro Truss and fully engineered to meet Australian safety standards.
Our stage roof structures comes in 3 sizes, 6m x 4.6m, 9m x 4.6m and 9m x 9m. Whether it be an outdoor festival, community event, concert or marketing activation our structures are sure to stand out from the crowd.
For more information on our structures please call 08 8445 1997.
Corpralite Audio Visual offers an array of services for exhibition hire in Adelaide. We understand the importance of your display at a trade show or conference as it is vital in showing off the core aspect of your business. The team at Corpralite Audio Visual will work with our clients through concept and design to build and execution to design displays using innovative technology, creative designs, vibrant lighting and exterior fascias to create the desired look and feel of the display.
If you want your display to stand out from the crow speak to one of our sales and operation team today, please call 08 8445 1997
Staging & Flooring
We have a range of flooring options for events including:
Carpet Tiles
Black or White Exhibition Floor Panels
Non slip staging, ramps and steps
Truss Displays
Contact our team to discuss our range of truss frames that can add an impact to your display or stand, starting from our basic 3×3 structures up to supersize structures with a massive impact. Truss frames are a quick and budget effective solution to add presence to your display and ideal for adding signage and audio visual too.
Audio Visual
If you need a large or interactive display for your stand our team have an option for you, our range of visual solutions can fit any design. Using a combination of our Full HD TV monitors, jumbo LED screens, projectors and innovative control gear such as media  players, interactive servers and high end switching gear we can design a solution to suit your design and budget.
Corpralite Audio Visual stock a large range of Truss and rigging equipment for hire which include chain blocks, slings, FD34 Square Eurotruss, Tri Truss and associated rigging accessories required to carry out works safely. Our team of experienced riggers will ensure that each and every job is carried out efficiently and safely, no matter how big or small the job is.
FD 34 Eurotruss
FD34 straight elements lend themselves to use as span exposed to bending stress resistant span up to 16m or as standard tower element. FD34 using the 2mm wall thickness assures durability and strength. Designed for high frequency usage or installations,which demands higher loading. Ideal trussing system for exhibitions, indoor and outdoor structures.
Depending on the application we also provide black or white truss covers for a more corporate look.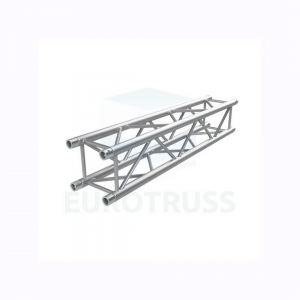 Truss Circles and Special curved truss elements
Next to all the standard lengths and the various range of corners Corpralite stock a range of curved truss pieces which make up a truss circle, oval ring and can also be used to make custom truss structures. Truss Circles are ideal to create overhead hanging pieces for lighting or signage for exhibitions.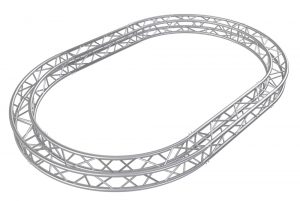 For more information on Truss and Rigging please call 08 8445 1997
Wedding and Drape Hire Adelaide
Whether you are holding a corporate event or getting married, Corpralite Audio Visual has a range of curtains and drapes in various sizes to suit your event. From lush white drapes used in a bridal backdrop to black velvet drapes used to create a corporate impact.  
We have a range of sizes including 5m x 3m, 5m x 4m and 5m x 6m. Our drape kits all come complete with friction poles used to hang the curtain or drape. Our drapes can be used as bridal backdrops, full room draping, change rooms, room dividers  to section off a large room or even use them to black out a room for a theater or corporate event. For that added effect add some LED uplights.
To arrange a free quote for your next event please call 08 8445 1997
Ready to hire?
Request a quote easily using our short online form.
The team at Corpralite Event Services & Hire are professional, reliable and creative. Get in touch for a custom quote for your next event.