Lighting Hire Adelaide
Corpralite Audio Visual has an extenive range of high-end professional lighting fixtures including LED wash, moving head spot lights, fresnels and much more for both short and long-term hire. Our extensive inventory of Lighting; along with our technical expertise will ensure you have the right AV solution every time.
Get a Quote
Ready to hire?
Request a quote easily using our short online form.
Let us transform your event into a magical experience. Lighting can control the mood of a room and create a energy like no other. Whether it be a wedding, corporate event, festival or concert we have a lighting solution to suit your needs and budget.
The Importance of Lighting in Productions is critical in conveying the proper atmosphere. It is essential in setting the mood and focus of your event. Rest assured our team of Lighting technicians will be in control to ensure those crucial moments of your event or production will be conveyed to your audience.
Enhance the atmosphere and draw focus to key elements of your event with an array of special effects and custom lighting solutions. Corpralite Audio Visual are your professional atmosphere creators, designing personal and unique concepts suited to your event.  Whether it is a Private Functions, Birthday Party, Wedding, Corporate Event, Concert or Festival, Corpralite has the solution for you. 
For more information on outdoor lighting hire in Adelaide please call 08 8445 1997
Corpralite Audio Visual carry a wide range of moving light fixtures for hire in Adelaide. Whether you are after simple effects lights for a Dj, private event or a large scale production, Corpralite Audio Visual has the solution for you.
Our Range of moving head fixtures include the Chauvet Professional R1 Rogue Spot, R2 Rogue Wash and Robe color spot 250. Along with our lighting fixtures we have professional lighting desk systems and lighting operators to help create your desired lighting design. Corpralite Audio Visual also stock an array of Smoke Machines, Hazers and Fog machines to enhance the lighting for your event.
If you are looking for professional lighting solutions for your next event please call 08 8445 1997.
Chauvet Professional Rogue R2 Wash
Durable and dependable, this moving wash workhorse produces a bright, powerful light and offers five zones of LED control to pixel map its 19 (15 W) RGBW quad-LEDs. A standout zoom range of 12° to 49° gives it the spread to cover even the largest areas. Smooth color mixing, simple and complex DMX channel profiles and powerCON in and out are just some of the other features that make this fixture a standout performer in any setting.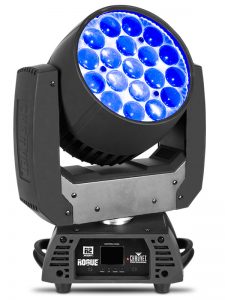 Chauvet Professional Rogue R1 Spot
Rogue R1 Spot brings innovation and creativity with a rotating 3-facet prism for stunning aerial effects, a motorized iris and focus for beam shaping, as well as two gobo wheels, one of which rotates and has 7 interchangeable gobos for custom looks. Rogue R1 Spot shines brightly with a 16.5° beam angle for crisp gobo projections in a range of eight beautiful colors.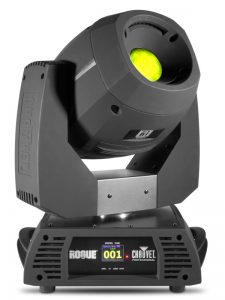 Chauvet Professional Legend 412
Legend 412 is an innovative, high performance moving yoke wash with 12 cutting edge Cree quad-color RGBW LEDs controllable in quadrants. Nimble and ultra-compact, this multi-purpose unit is capable of an excellent wash, dynamic chases and pixel mapping. White emitters make for better color rendering, while the calibration of LEDs ensures uniform output.

Chauvet Professional Legend 230
The Legend 230SR Beam is equipped with a 230 Watts Osram Sirius lamp that emits a powerful output of 96,000 lux at 15 meters, thanks to the precision of its lens and a narrow beam angle of 2.25 degrees. Compact and agile, it incorporates an 8-faceted prism with zoom and 17 gobos (more open) along with an autofocus. In addition to the 14 whiter colors, the color wheel also has the option to provide split colors.  

ROBE ColorSpot 250 AT
The ColorSpot 250 AT includes a new rotating gobo wheel with 7 replaceable ″SLOT&LOCK″ dichroic glass gobos + open, and a new colour wheel hosting 10 replaceable ″SLOT&LOCK″ colours + open. The 3-facet rotating prism is now also replaceable.
Completely new software enables very smooth rotations of gobos and prism, and 8 or 16-bit resolution for gobo indexing, prism indexing and dimmer. The improved cooling system ensures better operating conditions for lamp and reduces noise at the same time. The ColorSpot 250 AT is aimed at the TV studios, small and middle sized clubs and discotheques, and various types of installations.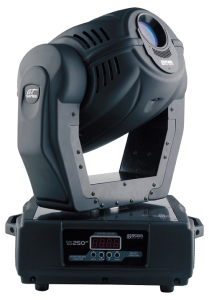 Ready to hire?
Request a quote easily using our short online form.
The team at Corpralite Event Services & Hire are professional, reliable and creative. Get in touch for a custom quote for your next event.